Pioneers and explorers
encowaywas one of the first providers of product configuration software: historically one of the first successfully deployed AI technologies (AI: Artificial Intelligence).
Today, we operate in a complex, dynamic environment and are the leading provider of software solutions for CPQ, product configuration, quote generation and variant management in Central Europe.
Our goal is to further enhance the success of our customers and our company. This also includes developing new business areas. Not only those that are already well known, such as the Industrial Internet of Things (IIoT) and cloud solutions, but also those that are still emerging.
Our family
encoway is part of the Lenze Group, a leading automation company specialising in mechanical engineering. Lenze has around 3,700 employees worldwide and is represented in more than 60 countries. Together with our sister company logicline – a cloud and IoT service provider – we and Lenze form the growing digital pillar of the Lenze Group: Lenze.Digital.
In Bremen we are already working together on customer solutions of the future and have opened DOCK ONE, a digital innovation lab for the industry of tomorrow.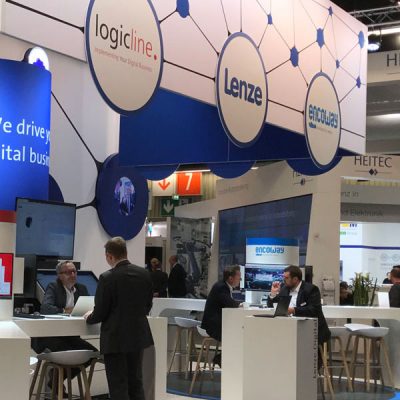 (Together) setting sail towards digitisation
Most of our customers come from the industrial sector and usually have their headquarters in Germany, Austria or Switzerland. They include medium-sized and large companies that often operate internationally.
We cultivate long-standing customer relationships based on partnership, for example with ABB, Blum, Festo, Hornbach, Phoenix Contact and many others.
Our ship
We work with state-of-the-art technology, powerful products, modern project and team management, a strong customer focus and professional change and improvement processes.
When you walk through the corridors at our company you will find most of the doors open. The rooms, with their glass fronts, radiate an open, friendly atmosphere. Everywhere you will meet colleagues exchanging ideas or explaining something by drawing on one of the many whiteboards. We use the open kitchen areas for breaks and to eat together.
In addition to German, you will also increasingly hear English. Web meetings and telephone conferences in both languages are part of our daily lives. For customer or business meetings in a quiet atmosphere, there are numerous meeting rooms available.
Unsere Crew
Our crew includes experts from a wide range of fields: software development, project and product management, service, product modelling, consulting, sales, marketing, design, IT administration and business organisation.
We work hand in hand and attach importance to a respectful and open relationship with one another. We maintain flat hierarchies, team spirit, and a lively, targeted feedback culture.
We are passionate, creative, inquisitive and professional and we encourage communication, initiative and assertiveness. We are all on first-name terms and are not obliged to wear suits. We always discuss different opinions regardless of our position, age, gender or education.
Our harbour city
Bremen is Hanseatic, maritime, and full of colour! Bremen is a small, green city on the Weser. Bremen stands for tradition (The Old Town, the Hanseatic League and football) as well as for modernity (science, technology and innovation). There is often a fresh breeze blowing and sometimes the change between sun and clouds is a real challenge for any weather forecaster – and also for one's choice of clothing.
Bremen has a great deal to offer: the Freimarkt fair, the Breminale live-music festival, "Kohlfahrten" in winter and visits to the beer gardens on the Schlachte river promenade in the summer are just a few examples. If you want to know more about our city, here is more information for those new to Bremen.