Jan-Christoph Horstmann completed the Dual Master's Programme in Computer Science (DMI) in the sales department at encoway.
How I came to encoway
I first heard of encoway while studying for my bachelor's degree at the Bremen University of Applied Sciences. A fellow student had started a student job there and we talked mainly about the type of technology that encoway uses. I was very impressed by what appeared to be common industry practice outside of the university.
Towards the end of my bachelor's degree course, a practical semester was planned for all students. I remembered my fellow student telling me about his positive experience and applied to encoway. This was four years ago.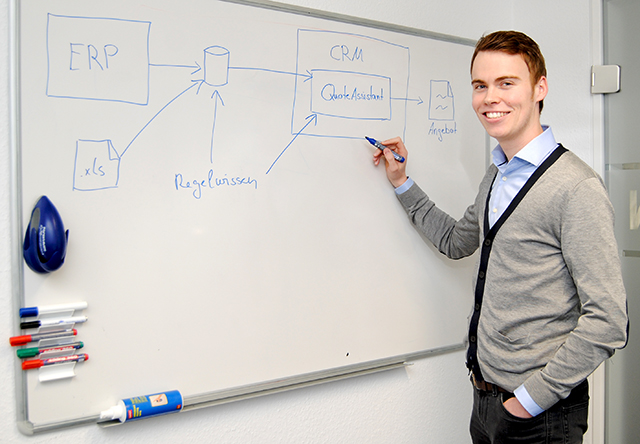 Why I decided to join encoway
At first, the new technologies in software development were what interested me most. But then I became increasingly interested in product configuration. After having completed my dissertation with the help of encoway, I wondered how I could build on my theoretical knowledge in computer science while at the same time gaining experience in product configuration. As it happened, the new Dual Master's Programme in Computer Science (known as the "DMI") was being planned. After a number of discussions with Christoph Ranze, encoway's managing director, I was able to enrol on the DMI. Two and a half years later, I was the first successful graduate.
My work and responsibilities during the DMI/at encoway
While studying for my bachelor's degree, I already knew that although I was fascinated by the latest technology, getting to know new, interesting people was an important part of my life that I did not want to forego in the future. After a number of talks with my superiors, they helped me to find the ideal job that combined precisely these two aspects.
Today I work as a technical advisor in the sales department. Among my responsibilities are not only the preparation and development of prototypes, but also using these to present the product to potential encoway customers at their companies. In addition, I work together with my customers and colleagues to develop viable and sustainable system concepts that offer future users the best possible added value.
My personal highlight of the DMI
For me, it is the varied workday that is the highlight of my job. And as a positive side effect, as a DMI dual student in sales I got see so many new faces and to visit exciting new parts of Germany that I would otherwise probably never have seen. The DMI Profile Programme prepared me perfectly for my current responsibilities by means of seminars, which included presentation and facilitation training.
Biography: Jan-Christoph Horstmann was born in Sulingen, and after taking his A-levels in 2005, decided to take an apprenticeship as an IT administrator in order to get to know the world of work as soon as possible. He studied media computer science at the Bremen University of Applied Sciences. During the final semester of his bachelor's degree course, Jan-Christoph completed his internship at encoway and then wrote his dissertation in cooperation with the company. In autumn 2012, Jan-Christoph was one of the first students on the DMI. As part of this dual programme, he studied at the Bremen University of Applied Sciences and worked at encoway in technical sales. Since completing his master's degree in September 2014, he is now a full-time employee in the department.
Would you like to apply for a place on a dual master's degree course in project development? Or read more experience reports from other departments? You can find out more here: