Moin! Come on board and become part of our company's success story!
A sea of opportunities
We are looking for people who approach their tasks with commitment and expertise. We offer the chance to help shape things, a high level of responsibility and great prospects.
The various fields of activity at encoway open up a variety of development opportunities for you: in software development, consulting, project management or in sales, service, marketing, IT administration or office management.
Let's find out together where a mutual journey might take us!
Heading for new shores - this is how we can get in contact:
1. Select a job
Choose a position from the overview of our job vacancies.
3. Confirmation of receipt
You will receive a confirmation of receipt as soon as we have your application.
4. Feedback
You will usually receive feedback on your application within 7 working days.
On board
When you start with us, we will make sure that you have ample time to become acclimatised. In a structured onboarding programme you will get to know the company, the software, the areas of responsibility of the individual departments and the encoway culture.
Once you have arrived on board, your everyday life can look like this or similar – depending on your role with us:
The day starts with a cup of coffee or tea, which you can get for free. Either early in the morning at 7am because you are an early riser, or later at 10am because you might have to let a craftsman in your home.
After you have booted your computer and sorted yourself for the day, you and your team will go to your Daily Standup. Here you plan and prioritize your tasks together on your board.
During the day you organize yourself: You work on your tasks (tickets), face the challenges of our customers and take part in meetings.
During your breaks you will easily get into conversation with your colleagues and if it suits you, you will arrange to meet for a drink after work.
Your Monday, Tuesday, Wednesday, Thursday or Friday will end sooner or later according to the start of the day – usually after eight hours (plus breaks).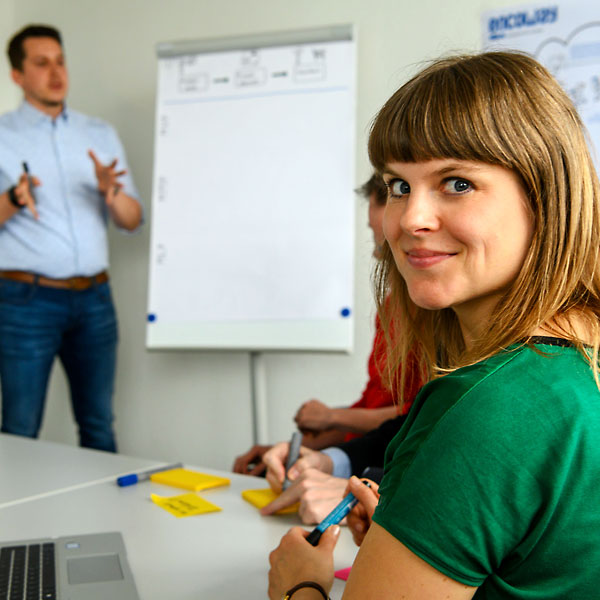 A great view
Your personal and professional development will be encouraged and challenged by us in line with your potential. Your strengths, talents and preferences will be taken into account and it will be possible to change or adapt your duties or areas of responsibility as required.