On Tuesday, 22 September, the foundation stone was ceremoniously laid for the office building that will be home to encoway's new headquarters. And that is not all: Lenze will consolidate its digital business at this location, and together with the Digital Hub Industry, an innovative future-oriented location will be created in Bremen.
In the Konrad-Zuse-Strasse in the immediate vicinity of the University of Bremen, modern office, collaboration, and technology spaces are being built on a site covering more than 12,000 square metres. The investor and developer of the building complex that will be known as NEOS is a project company. The building was designed by Bremen architects GMD in accordance with the wishes of encoway and Lenze.
As privileged anchor tenants, encoway and Lenze will move into the front section of the seven-storey building. The Digital Hub Industry is a joint project for innovation and technology transfer focusing on industrial applications that brings together encoway, the University of Bremen and the senatorial authorities for Science and Ports as well as Business, Labour and Europe. It will pool expertise in the field of digitisation and enable industry and science to work together on digital innovations and new business models.
Impressions from the laying of the foundation stone (click on the picture to open the gallery):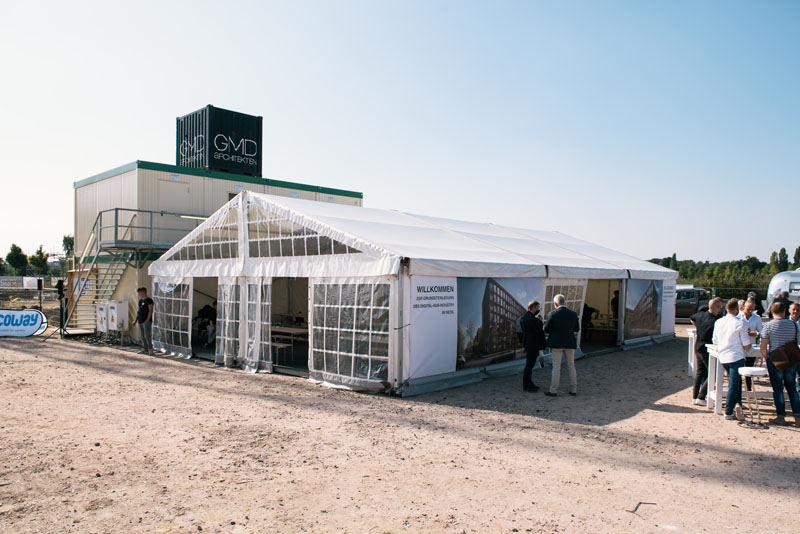 Participants and guests from the worlds of business, science, the senate and politics attended the ceremony. In his speech, the Mayor of Bremen, Andreas Bovenschulte expressed his delight at the commitment of encoway and Lenze and emphasised the international appeal of the future Digital Hub Industry. Other speakers included Dr. Claudia Schilling, Senator for Science and Ports, Christoph Ranze, CEO encoway and Frank Maier, CTO Lenze.
Christoph Ranze on the future location: "As the driving force behind this dream project, we at encoway are obviously especially looking forward to the new building. With the expanded DOCK.ONE and its integration into the Digital Hub, we will create a highly attractive melting pot for innovation and collaboration in all aspects of the digital transformation. And the best thing is: we are inviting our customers to become part of this innovation ecosystem. Whether CPQ, IIOT or artificial intelligence – the expertise available in our hub network is already impressive".
Frank Maier added: "We are delighted about the start of the project in several respects. This will be the new home of our Lenze.Digital and encoway teams that are currently scattered around the city, but above all, we are also sending an important signal about the digital revolution. For our customers we will become even more attractive as a partner for comprehensive automation and digitisation solutions along the entire value-added chain."
Caption Title: (from left to right): Andreas Krone, project development company Powerhouse, Patrick Denker, architects GMD, Christoph Ranze, founder of encoway and Head of Digital Business, Lenze, Andreas Bovenschulte, Mayor of the Free Hanseatic City of Bremen, Frank Maier, CTO Lenze, Dr. Claudia Schilling, Senator for Science and Ports, laid the symbolic foundation stone for the project