Board check – Our features at a glance
Below, we have listed a few features relating to our culture and the benefits we offer; you can use these to carry out an initial check to see how well we fit together:
Experience reports
What motivates us to work at encoway?
Julian Brünjes gives an insight into his personal and professional development at encoway.
Application as an employer
When you apply for a job with us, we check whether you are a good fit for us or for the position advertised. We think it's only fair if you can check beforehand whether we are a good match for you. This is also how we apply to you.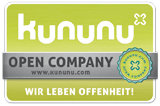 This is how our application process works:
We look forward to receiving your application and checking that everything we need is there.
We will confirm receipt and ask for any missing documents.
Our specialist departments will check whether you fit the position or other positions.
We would like to get to know you and will contact you for an interview.
We agree. We will contact you for a second or contractual interview.
145 times
we have gone on a swutsch together over the last 22 years.
1 time
a month we welcome an encoway baby into the world.
3.130
Finger surfing via the keyboards with us on board.
7.8 minutes
a free-range cake survives in our galleys.
About us
"Butter on the Fish". So that you can get a better picture of us, we'll tell you a little bit about us. Who we are, where you can find us and where our journey is going.
Our crew
First of all: We are all on first name terms. Our crew is made up of people with diverse backgrounds in different areas: software development, project and product management, product and data modelling, service, consulting, sales, marketing, design, IT administration and business organisation.
Together we create an environment that suits us. A mix of free space and supportive processes helps us to do this. To keep it that way, it's up to all of us. This includes that we do not stop questioning things and also give each other feedback. A positive attitude towards the work of our colleagues helps us to communicate in an appreciative way and at eye level.
We are convinced that it is important to know what it looks like behind one's own nose. That's why we have an extensive onboarding programme that teaches you one thing above all else in addition to technical content: Contact with people. You get to know people who you can approach – regardless of position, age, gender or education – to discuss different topics and opinions.
Our harbour
encoway is part of the Lenze Group, a leading automation company for mechanical engineering. The headquarters of encoway is the NEOS in the technology park around the University of Bremen. The NEOS is not only our office building, but much more an ecosystem that promotes innovation. With us, start-ups, industry-related companies and scientific institutions have dropped anchor in the NEOS. From different perspectives, we all work – sometimes collaboratively – on solutions to advance digitalisation in industry.
The NEOS is also home to DOCK ONE. This is our digital lab, where we shape the industry of tomorrow together with customers and partners. "Our" means: encoway, our parent company Lenze and our "sister" logicline. Here we have space to create innovations and evaluate new business models. This is how we help shape the future of the industry. In doing so, we look at technologies that are already known, such as Industrial Internet of Things (IIoT), as well as those that are still emerging.
The worlds mix in the fitness room, galley and roof terrace. At the latest during lunch break, employees sit next to customers and guests from all over the world. Jeans and T-shirts mix with ties and suits.
Our course
Our customers are mainly companies from the manufacturing industry with a wide range of products. Effective production faces the desire of their customers for individualization and high, international competitive pressure. The crises of recent years have alternated, sometimes unexpectedly, with phases of strong growth.
In this market situation, resilient companies have the best chances. This is exactly what we do, because our configuration software makes our customers more adaptable and our consulting helps our customers to question and optimize their own processes. In short: We digitize sales and marketing processes and rethink them.
encoway was among the first providers of software for product configuration, which is historically one of the first successfully deployed AI technologies (AI: Artificial Intelligence). And exactly this configuration core is still the heart of our software today. Sure, it's no longer the same code, we can do that better today, but the vision has remained.
"We are convinced that companies can master diversity with ease and offer individual products. We show how! We deliver the software!"