Do you sell complex products and solutions? Products are becoming increasingly varied and are often offered as system solutions. Especially in these cases, the quote generation process must function in a transparent way. The quotation you provide must also be clear and comprehensible for your customers. After all, they are now placing more and more emphasis on transparency and excellent customer service. The ideal solution: a quotation configurator.
Find out now why our quotation software makes your work easier and how you can impress your customers with the right quotation.
Selling successfully with a quotation configurator
These are the advantages of software for generating quotations
These customers already use our quotation configurator:
Create quotes quickly and efficiently with a quotation configurator
With the quotation configurator within our CPQ solution, you are able to translate the requirements of your customers and prospects into technical solutions quickly and without errors. The quotation software supports you and your customers with Guided Selling. In this way, even new colleagues can create quotes without errors, because they are guided through the product selection process.
Even the most complex solutions can be quickly configured by your sales department, prices are calculated without errors, and compelling quotations are created instantly. This generates confidence in the professionalism of your company and at the same time increases the success rate of your sales team.
Gain trust through visual product experiences
The more complex and technical a product is, the more important it is for your customers to see and understand the individual solutions. And this should happen even before the contract has been awarded. With encoway CPQ, you create 2D and 3D product visualisations of your products and include them directly in the quote. This makes the selling process easier for your sales team, because the technical aspects are presented in a way that is easy to understand. In addition, it supports and accelerates the purchasing decision of the prospective customer.
Accelerate the purchase decision of your customers
Sales processes are often lengthy, especially for complex and multiple-variant products. Not only do customers tend to take their time and compare a variety of quotations, but often the sales department also needs a lot of time to prepare the quote. After all, the purchase of a complex product is associated with a high risk and usually also with considerable costs. This results in long sales cycles and high sales-related expenses.
Accelerate your customer's buying decision by presenting them with a detailed and compelling quotation within a short space of time. This will help you win the trust of your customers. In addition, visualisations of your products will also help you gain your customers' trust in what you have to offer. With a quotation configurator, you are able to generate quotes in next to no time. You can rest assured that they will be error-free and appealing to your customers.
"The time required for quoting has been reduced by 70% on average. Added to this are the savings from no longer having to make enquiries with the design department."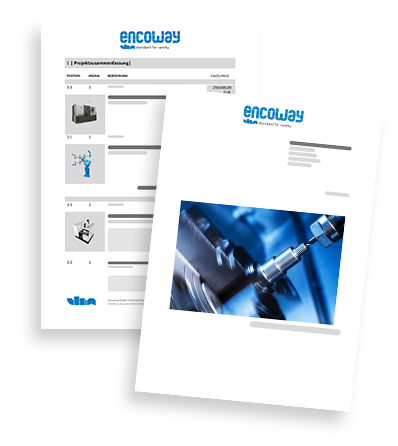 All sales materials can be prepared in the corporate design of the manufacturer, the sales companies or the dealer. The quotations can also be issued in different languages and are enhanced with product photos, drawings, 3D representations and technical data sheets.
Reduce errors and risk with quote generation software
Demanding enquiries from prospective customers directed to the sales department often result in numerous queries. Product managers, engineers or even senior staff must first be consulted in order to be able to provide the potential customer with a quotation. Subsequently, the sales department must also enter all data manually. This not only involves a lot of time, but also opens the door to errors. Mistakes in the quote reduce the margin and, in the worst case, lead to costly complaints and damage to your reputation.
These are all things that you can easily prevent with our quotation configurator: a product configurator is embedded in our quote generation software. This contains a comprehensive set of rules. This means that any conflicting combinations are ruled out right from the start. The error rate drops significantly, both in terms of design and prices. It also reduces the need for internal consultation and approvals, which are often very time-consuming.
The need for consultation cannot, however, always be completely avoided, for example in cases where the customer's special requirements necessitate a special design. However, these intermediate steps can also be integrated into the CPQ system in a structured way via workflows, so that the teams from development or design can quickly provide feedback on the feasibility and additional costs of the desired solutions.
With our quotation configurator, you only create quotes for products that are actually buildable. Because each quote is guaranteed to be correct, you save time and money. In addition, your customers will be more satisfied because they will receive error-free quotations more quickly.
Gain more efficiency in the quotation process
In particular, the special requirements of customers in the B2B sector can be very time-consuming. Many colleagues have to be consulted, feasibilities checked and prices compiled. This makes the work inefficient, especially in sales.
Thanks to our quotation configurator, you are able to automate the process of configuration, pricing and quoting. The product data is not only firmly embedded in the minds of the individuals, but also in the system. This means that everyone can access the data at any time and has the latest product information and prices at their fingertips. This avoids errors and helps you speed up the processes. In addition, our CPQ software can be integrated into other business systems, such as CRM software or ERP software. This promotes the exchange of information between different departments and systems and increases overall efficiency.
Configure systems with ease
Many manufacturers of capital goods sell systems that consist of individual configurable products or components. With the encoway product configurator, you can easily add the specifications for the overall system. The CPQ system automatically transmits these to the individual configurable products and components. You can thus rest assured that all the components fit together perfectly to form a practical system solution.
Offer special solutions with confidence
Our quotation configurator (encoway CPQ Sales) also provides reliable support for customer solutions that require special designs. Thanks to automated workflows, the necessary process steps for technical testing or costing are directly integrated into the quotation process. This automates internal queries via workflow. Your sales department will also be able to offer special solutions reliably and quickly in this way – without any risk.
Do you want to find out more about sustainability and CPQ?
Then feel free to contact us. We will be happy to show you how you can use our software to create quotes simply and easily, even for the most complex products..
Useful information about quotation configuration
Read in the eBook how a CPQ solution can help you to open up new sources of revenue and offer real added value.