Product configurators are now very common in the B2C sector and also in B2B. Their number and importance is increasing. In this article you will find out what exactly a product configurator is, what types and areas of application there are, what advantages configurators have and how they are structured. We have focussed on their use in the B2B sector.
What is a product configurator?
You have probably already used a product configurator. On various websites, we as consumers are able to configure cars, PCs, muesli, sports shoes and much more according to our wishes and make purchases or enquiries.
The term product configurator comes from "configure" and "product configuration". According to the Duden dictionary1 , configure means to design, arrange or assamble something. Product configuration describes the assembly of a product from predefined product components and the selection of their characteristics in compliance with specific rules2.
A product configurator is, in short, a digital tool that helps to determine a product so that it meets predefined requirements3. The product can be a consumer product, a component, a machine or plant, a system, a service or a combination of these. For a more detailed definition of the term, see the following box:
Definition of product configurator4:
A product configurator is a tool that supports users in the selection of products that are assembled using individual components and featres in accordancee with defined rules. The resulting product is put together step by step based on existing knowledge, , and according to stored rules and relationships. Thanks to this automated approach, the processes between customers, dealers, sales, product management and production are made more effective and efficient. In B2B, in the field of mechanical and plant engineering, the term "design" is often used to describe the assembly process.
The increasing relevance of product configurators, especially in B2B, has been fuelled by several developments. Firstly, the degree of individualisation is constantly increasing. Customers expect products and solutions that are tailored to their needs and requirements. This requires standardised processes and a modular product structure to ensure that the high level of variance in quotations for customers can be managed internally as efficiently as possible. In addition, customer demands and behaviour are constantly changing. With increasing digitisation, the customer journey requires more self-service options and a better sales experience. A product configurator provides solutions for these challenges.
Product configuration is now also very widespread in B2B and industry. Configurators are used, for example, in the sales departments of mechanical engineering companies and equipment manufacturers, on the websites of component and electrical engineering manufacturers and by dealers.
The basis for these configurators is software that processes product information and combination logic in such a way that the product can be put together using the individual components, for example by selecting the desired requirements or properties.
What types of product configurators are there?
The generic term product configurator is often used today for the example applications described above. Other related terms, such as quotation configurator, CPQ solution and Guided Selling solution, usually refer to individual application areas and tasks:
CPQ solution / Quotation configurator / Sales configurator
A quotation or sales configurator or a CPQ solution is used in sales. This tool is used for the technically correct and error-free compilation of complex products and solutions as well as for the automated creation of quotation documents. The abbreviation CPQ stands for Configure, Price, Quote – in other words for the automated processes of configuration, pricing and quotation creation. With such a solution, the sales department will only configure buildable solutions and thus require less internal consultation, will calculate the right prices, and will create quotes in a uniform design.
Guided Selling Solution
With a Guided Selling solution, the user view (via applications and functions) is included in the configuration. The configuration solutions with a Guided Selling approach ask about the needs and requirements of the interested parties step by step during the selection process. These are translated into technical product characteristics and lead to the appropriate variant. This approach can be implemented in sales (CPQ solution) or also in configuration solutions for dealers or customers online. With Guided Selling, sales staff require less expertise in the sales process and customers have easier access to the right product.
Web configurator / online configurator
Online or web configurators are integrated on the manufacturer's or dealer's website and enable customers to configure products themselves via a self-service option. This type of configurator enables and prepares the customer to select an individual variant of a product or solution already during the research stage. This type of tool provides customers with a special product experience even before they have personally contacted the company or the sales department.
3D configurator, visual configuration
3D configurators enhance configuration with a visually interactive component. In this way, they make it easier for users to access and understand complex products and the spatial design of solutions. For example, users are able to place individual parts or components in a given space or casing using drag-and-drop. The generated product model can be interactively rotated, scaled and moved. Customised, tested products, systems or plants are thus created right before the customer's eyes.
Variant configurator, ERP configurator, parts list configurator
Other terms in the field of product configuration are variant configurator, ERP configurator and BOM configurator. These terms refer to in particular configurators that support the production processes and are used to generate bills of materials or routings. One example of this is the SAP LO-VC variant configurator.
In some cases, the variant configurator is also used to support CAD automation in design. CAD systems are controlled and the design process is supported automatically.
There are cross-process solutions that use, for example, SAP LO-VC data, for example, and link it seamlessly with sales configurators to convert sales configurations into order data.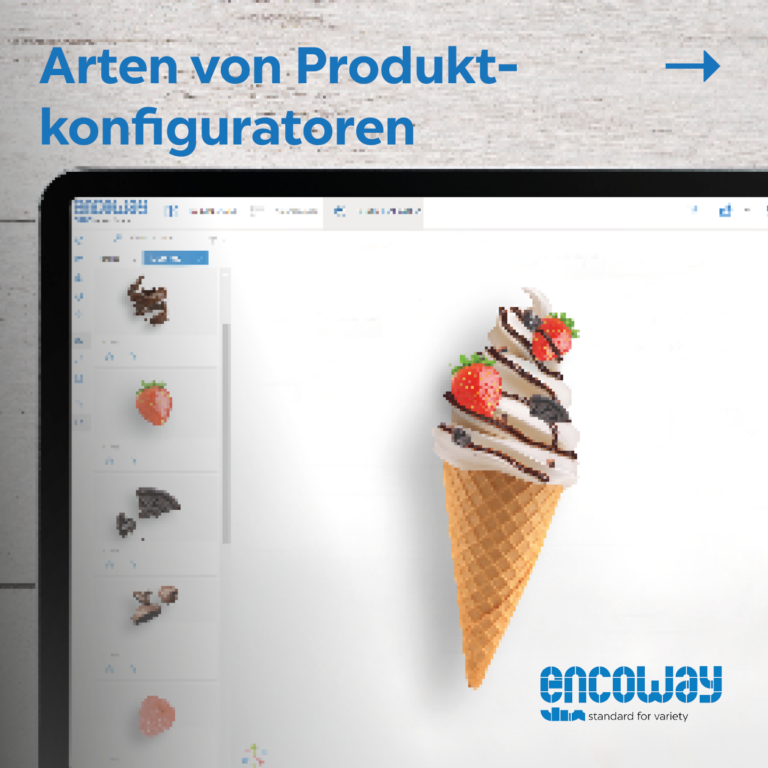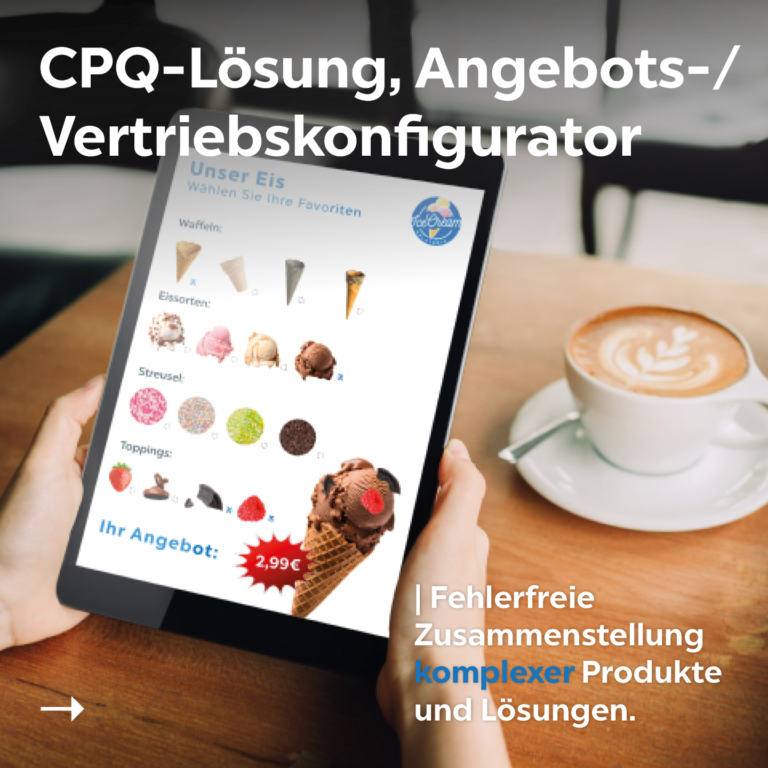 What are the advantages of a product configurator?
Product configurators are used in particular for the marketing of individual, complex, multiple-variant products. They are more or less deeply integrated into the business processes of the companies and generate added value across the entire value chain.
The benefits range from more efficient processes and cost advantages thanks to the reduction of manual activities and redundant data to strategic advantages whereby the introduction of a configurator paves the way to becoming a system provider.
Some key benefits at a glance:
Error-free compilation of individual, complex products
Reduction of time-consuming internal coordination
Automation of the order system
Reliable and margin-proof price calculation
Acceleration of the quotation process
Acceleration of production or delivery
Simplified access to product knowledge
Quick and easy fulfilment of individual customer requirements
A modern self-service system for customers, dealers, and specialist partners
Improvement of competitiveness
Value creation and strategic relevance
The more deeply a configuration solution is integrated into the company processes, the more it unfolds its benefits and potentials for the entire value chain. In addition to customers, sales, product management and marketing, engineering, order processing, research and development and service can also benefit from a product configurator. Their integration can significantly increase the overall benefit of a configurator.
Counteracting the shortage of skilled staff
A currently very important advantage is that configurators safeguard valuable knowledge in the company and make it more easily accessible. In this way, the expertise does not just remain in the heads of individuals, who will leave the company at some point. Even less experienced and new employees are trained more quickly and are able to provide customers with professional support. In times of a shortage of skilled workers, this is an advantage that should not be underestimated!
Increasing turnover – securing margins – remaining competitive
Up to now, there has been a lot of talk about leaner processes, cost savings, automation and customer centricity. At least as importantly, a configuration solution can lay the groundwork to further increase sales and safeguard and increase margins, for example because
acquisitions and international locations can be connected more easily,
special solutions and errors are avoided,
target prices are more reliably met,
price increases become easier to realise,
selection and comparison of sustainable products is made possible
Companies that are leaders and innovators with their configuration services benefit from a competitive edge.
It is not uncommon for companies to notice the strategic relevance of a configuration software solution during its introduction. A product configurator can, for example, thus make the necessary upcoming transition from a product to a system supplier possible in the first place.
Who benefits from a product configurator?
The benefits for the individual departments and roles involved are as follows:
Sales
It is often difficult for the sales department to keep track of extensive product portfolios. With a product configurator, they have the necessary product knowledge at hand and can quickly and easily offer the right product. This simplifies the training of new sales staff and safeguards the expertise in the company. In this way, a configurator counteracts the "bus factor" (knowledge only held by key individuals) and the shortage of skilled staff.
With a configurator that includes the Guided Selling functionality, the sales department can also put the customer's needs at the centre of a sales talk and transform the customer's requirements step by step into a technically sound solution.
Using pricing and integrated discount functions in a CPQ solution, the sales department is able to calculate and discount prices (and margins) quickly and reliably. The configurator automatically combines the constantly updated information into a quotation, which can be enhanced with images, technical documents and much more. In this way, the sales staff provide the customer with a quick and error-free quote, clearly arranged and with the right layout.
Lengthy internal coordination processes are thus largely eliminated, because, for example, the buildability of every solution is ensured thanks to stored rules and automated approval processes. Sales staff are able to act more independently, faster and more confidently – and concentrate even more on their core competence: customer care.
Customers
When used as a sales tool, the customer will benefit from fast, error-free quotations. Delivery times are shortened because a time-consuming coordination process is no longer necessary and orders can be created automatically. This also benefits the customer.
If the product configurator is provided on the website in the form of a customer self-service system, customers are able to immediately assemble their desired information and products quickly and independently. This is a state-of-the-art service, with more and more customers preferring to obtain information online themselves first and dispense with personal meetings with sales staff at this stage. Depending on the design of the configurator, a customer can put together their product or solution themselves, adapt it to their needs (Guided Selling), visualise and compare products, select accessories and obtain additional information such as CAD data quickly and easily.
Dealers and specialist partners
There are also advantages for dealers and partners, who are often more familiar with a manufacturer's products than the end customers, but are less experienced than the manufacturer's sales department. A product configurator makes it much easier for them to access the desired portfolio. It helps dealers and specialist partners to create their own quotations, if required in their own layout, and to provide professional advice for the end customers .
Product management
With a CPQ system, product management saves valuable time because users obtain information without the need for time-consuming queries, and create quotations as quickly and without errors. When a product configurator is introduced, data is also cleaned up and consolidated. The resulting uniform database, and well-maintained product data, including rule knowledge and sales-relevant data create a solid basis for the expansion of future business.
As a result, a configurator also paves the way to new sales potential, for example through a faster product launch. This is achieved through the significantly leaner processes for new products and extensions to the portfolio. It also simplifies the expansion of additional sales channels in the area of eCommerce and the linking up of dealers and sales partners. Customers benefit immediately from new solutions and new value-creating services. This creates sustainable competitive advantages.
Marketing
Configuration tools provide a solution that addresses changing customer expectations and are of benefit to marketing for lead generation. Prospective customers are able to "experience" their products right at the beginning of the customer journey. They put together their desired solutions themselves. With visual support, the individual quotation is created before the customer's eyes. In order to save the configuration and receive further information such as prices, prospective customers enter their contact details: in this way, a product configurator becomes a lead generator.
Construction and manufacturing
The optimisation and automation of product assembly can significantly reduce the effort required for downstream processes in manufacturing and design. For example, through consistent automated order creation and parts list generation in the ERP. In the same way, a product configurator can facilitate design work by allowing prepared models to be adapted more quickly in CAD systems (CAD automation) or by exporting 3D data.
How does a configurator work?
As described above, a configurator is a software solution that is deeply integrated into the company processes. A configurator can be divided into various functional units:
Data maintenance
For the management of product data, texts, images and graphics, price lists and configuration models, the software requires data maintenance. Ideally, this is a user-friendly tool in which all this information can be imported, entered and maintained. In data maintenance, catalogue structures and defined product modules are created or adopted and expanded with rules and models.
Data maintenance is also often linked to other systems such as ERP (Enterprise Resource Planning, for example SAP ERP), PIM (Product Information Management) and PDM (Product Data Management) via interfaces in order to exchange shared data.
Rules, logic and modelling
To ensure a correct assembly, a configurator requires the relevant knowledge and logic, consisting of product data as well as rules and models. The product models describe the functions, features and characteristics of products as well as the object dependencies between them. In other words, the rules and definitions according to which the products can be assembled.
There are various configuration approaches for the technical processing of this information. Whether a relatively simple or a sophisticated approach is suitable for modelling depends primarly on the degree of complexity of the task. Among other things, manufacturing principles are often used for classification. The complexity increases from PTO to ETO, while the degree of standardisation decreases:
PTO (Pick To Order)
CTO (Configure To Order)
ATO (Assemble To Order)
MTO (Make To Order)
ETO (Engineer To Order)
Configuration approaches
The most common configuration approaches used in software solutions are decision or variant tables, constraints and scripting languages.
In a variant table, all permitted combinations of objects and characteristic values are presented in tabular form. The appropriate variant is then selected in the product configurator based on the customer's requirements. A closed modular system is used here, which, however, will reach its limits with more complex product structures.
Constraints define restrictions and relationships between configuration objects or between properties. With a constraint-based configuration approach, the consistency of the configuration can be monitored at any time, in any step. They are particularly suitable for more complex use cases.
Script languages are used to describe procedural dependencies. These are often calculations or search procedures on database tables.
In practice, the different methods and approaches are often combined. When choosing the appropriate approach and thus also the configuration service provider, the requirements should first be considered so that the chosen approach ultimately meets the prerequisites and objectives.
User interfaces and output of results
The interface design and user guidance of the application is another important aspect of a product configurator. As we have seen, a configurator covers different areas of application and user groups. Depending on the use case for which a configuration solution is to be created, various requirements and basic conditions have to be considered.
During the development of the software, a good UX design should ensure that the application supports the users' workflows and adapts to their actual requirements.
Typical functions of the user interface, using the example of a sales configurator:
Product catalogue
Product configuration / 3D configuration, if necessary with Guided Selling approach
Price calculation
Quote generation
Shopping basket and order functions
There are also functions such as product finder, favourites, AR visualisation (augmented reality), selection of accessories and services and much more – depending on the configurator type, user and area of application. Individual functions are adapted or added depending on the objectives and requirements.
Integration and interfaces
Because a product configurator in B2B is usually deeply integrated into the company processes, it is connected via interfaces to other software systems such as ERP PIM and PDM, via which data and results are exchanged.
Some providers have already integrated quotation configurators or CPQ solutions into CRM systems such as Microsoft CRM or Salesforce. In this way, the sales staff are able to work in one application without realising that they are actually using two systems. The individual process steps are carefully coordinated with each other.
How much does a product configurator cost?
Software for product configurators is available ranging from standard to customised solutions. Due to the individual requirements in B2B, standard software is often more or less customised to meet the customer's specific needs. Basically, the costs for a configuration solution are made up of the following components: the software product, implementation, operation, maintenance, and support. The software product itself can often be purchased or rented, for example as a SaaS solution.
The prices for software implementation and operation in industrial companies vary depending on the range of services, the individual customisation and the licence model. It is not possible to make a generally valid statement in this regard.
Configuring complex things with ease
The choice of software or provider should only be made after careful preparation within the company. This includes, among other things, clearly defining the objectives and putting existing data and processes to the test.
The white paper "Selection made simple – how to find your ideal CPQ provider" compiles the most important steps for selecting the right partner.
It is also helpful to look at the references from providers in order to benefit from the experiences of others.
We are software providers with over 20 years of expertise and consider product configurators to be one of the most useful software solutions for companies with complex, multiple-variant products. They are part of the upcoming digital transformation and make companies more resilient, competitive and future-proof.
Do you have any questions on this topic? Please do not hesitate to contact us:
Footnotes
2 Based on: Christian Scheer (2006): "Kundenorientierter Produktkonfigurator: Erweiterung des Produktkonfiguratorkonzeptes zur Vermeidung kundeninitiierter Prozessabbrüche bei Präferenzlosigkeit und Sonderwünschen in der Produktspezifikation"; Logos Verlag Berlin
4 Adapted on the basis of: Wikipedia Definition Produktkonfigurator